Upgrade Appliances
One of the most effective ways to increase the appeal of your kitchen is by installing modern appliances. Prospective buyers love when they have something brand new that they won't have to worry about repairing or replacing anytime soon.

To go the extra mile and stay ahead of the curb, invest in some smart appliances. There are fridges available that track grocery levels and alert the owner when they are out of something. To effortlessly heat up items, purchase a microwave that works by voice commands. You can even buy an oven that can be managed by a smartphone app, including turning it on and off and controlling the temperature. By strategically buying and installing a few updated appliances, homeowners can enjoy a higher return on their home's sale while avoiding extravagant upgrading.
Make it open-concept
Open concept kitchens are trending right now. Not only does it create the illusion of more space, but it also allows one to be able to host a gathering and not be separated from the guests while working in the kitchen. Determine if the structure of your house would permit an open concept conversion. If it's possible, consider hiring a contractor to make this layout would be a huge upsell for buyers.
Update fixtures & counters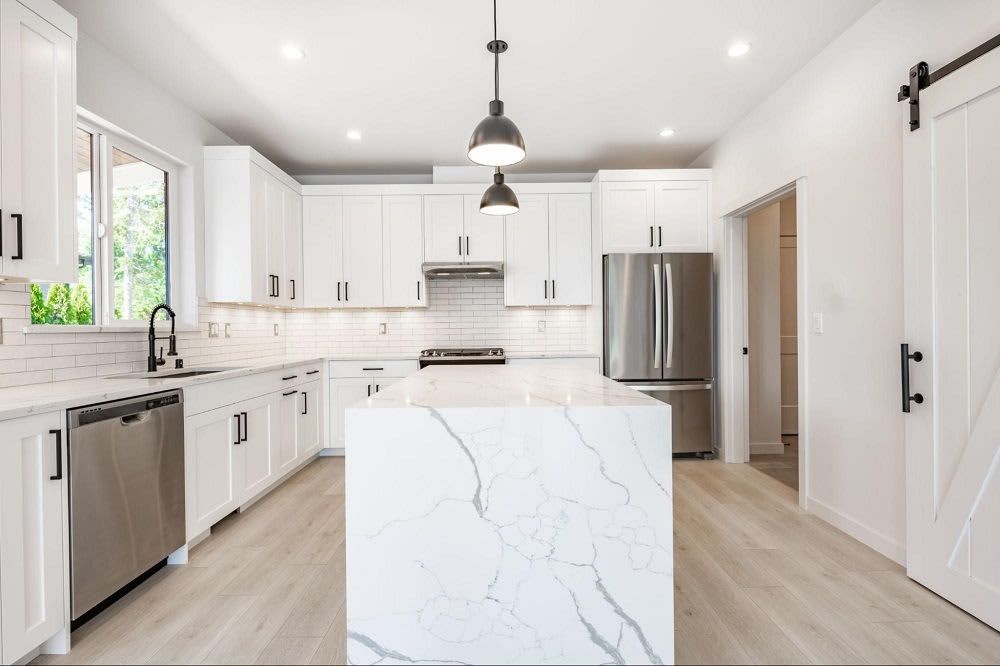 Making sure all counters, fixtures, and cabinets are updated to current trends will make your home appear newer and well maintained. The more turn-key a home is, the more buyers it will attract.

Take the time to research which styles and details will work best with the aesthetic of your home. Marble is in right now, but be sure to select the shade which compliments the atmosphere of your home. Similarly, decide which colors for the cabinetry would work in the space, and cultivate a visually appealing kitchen that elevates the experience of the whole property.
Backsplashes
Installing a backsplash behind the sink can easily enhance the appearance of the kitchen. Functioning as a vertical extension of the counter to prevent the wall from water damage, this element can be a few inches in height or extend all the way to the ceiling. Backsplashes add a subtle hint of luxury and are often installed in tandem with updated cabinetry and countertops to create an appealing and cohesive look. Materials for backsplashes range from luxuriant porcelain tiles to artful ceramic designs and can be used to create a bold style statement as well.


If you're interested in learning more about kitchen upgrades to boost your home's ROI or about San Francisco homes for sale, please don't hesitate to reach out to Prema Subramaniam. Their team would love to show you homes and San Francisco real estate for sale.